Get Your Coupon Code Today
How do you want to receive your code?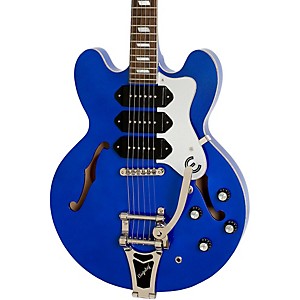 Epiphone presents the Ltd. Ed. Riviera Custom P93 Blue Royale with Bigsby B70 tailpiece in a beautiful exclusive Chicago Blue Pearl color finish along with the distinctive œRoyale-style Silver Sparkle binding. It features superb Epiphone pickups and electronics along with the rock solid hardware you™ve come to expect from Epiphone.

Ltd. Ed. Riviera Custom P93 Blue Royale
The Epiphone Riviera Custom P93 is modeled after one of Epiphone' most enduring classics, the Riviera. First introduced in the early ˜60s, the Epiphone Riviera' semi-hollow design has been a favorite of players from all genres and generations including blues great Otis Rush, Lou Reed of the Velvet Underground, and The Strokes™ Nick Valensi, who have all found that the Riviera' legendary ES-body shape could produce great tones with any pickup variation.

Over the years, the Riviera has been seen with humbuckers, mini-humbuckers, and P-90s. But now the Ltd. Ed. Riviera Custom P93 Blue Royale has the rare distinction of giving players a new sound and a striking new look.The Riviera Custom P93 Blue Royale has three Epiphone œDogear Alnico-V P-90 pickups for a sonic punch that leaves all other three-single coil pickup guitars in the dust. And when matched with the bell-like tones of the ES-style body, a Bigsby B70 tailpiece, plus a stunning Chicago Blue Pearl color finish and Silver Sparkle binding, the Ltd. Ed. Riviera Custom P93 Blue Royale instantly becomes a modern classic.

Semi-hollow Design, Solid Craftsmanship
The new Ltd. Ed. Riviera Custom P93 Blue Royale is constructed of premium laminated maple with a mahogany center block and is finished in beautiful Chicago Blue Pearl with a Metallic Silver pickguard with a famous 60s era œE. The glued-in mahogany neck is hand-set and has a 24.75 scale with a SlimTaper œD profile, 22 medium jumbo frets, and a 1.68 nut for great string spacing and intonation. The rosewood fingerboard has a standard 12" radius and pearloid parallelogram inlays and is topped off with a ˜60s era Epiphone logo in script and œCrown inlay on a Sloped Dovewing headstock.

Ground Breaking Electronics
The Ltd. Ed. Riviera Custom P93 Blue Royale' fabulous semi-hollowbody sound is powered by three Epiphone œDogear P-90 pickups with Alnico V magnets. Controls include 3 individual Volume pots (for each pickup) and 1 Master Tone topped with Epi Black œTop Hat knobs with metal inserts. The all-metal toggle works as it would with a 2-pickup guitar with the rhythm position activating the neck pickup and the lead toggle position activating the bridge pickup. The middle pickup can be used in any position by adjusting its volume control.

Like all Epiphones, the Custom P93 Blue Royale features quality electronic parts including full-size 1 500K Ohm potentiometers, Epiphone's all-metal pickup selector switch, and a heavy-duty output jack.

Royale Hardware
The Ltd. Ed. Riviera Custom P93 Blue Royale comes standard with solid nickel hardware. Epiphone vintage-style machine heads provide superior tuning stability and accuracy with 14:1 tuning ratio. Intonation is easy to set thanks to Epiphone' LockTone Tune-o-matic bridge plus a legendary Bigsby B70 tremelo. And the P93 Custom Blue Royale is strung at the Epiphone factory with world famous D™Addario 10-46 strings.

Case sold separately.


$399.0.00
Ends Saturday 05/28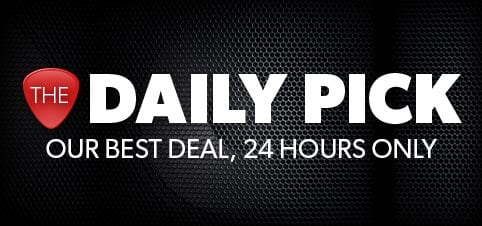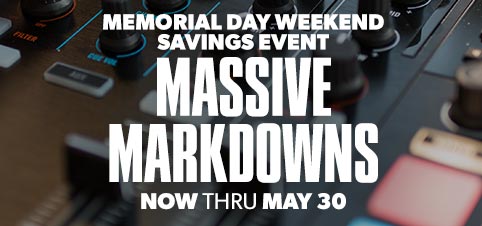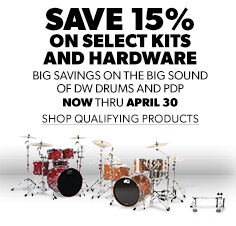 Guitar Center is home to the world's largest selection of popular guitars, basses, amplifiers, keyboards, workstations, drums, percussion, microphones, PA systems, DJ equipment, stage lighting, recording software, studio gear and more. Backed by over 260 stores across the country, GuitarCenter.com offers the fastest, easiest way to find all the gear you need in one place. And, while many popular instruments are available for same-day pickup at a store near you, we also offer free shipping on thousands of items to the Guitar Center location of your choice.

Because of our incredible buying power and strong relationships with all the top musical instrument brands, you're sure to find all the best gear at the guaranteed lowest price. From the all new Gibson USA 2016 updates to the largest collection of Strats, we've got everything a guitarist could ask for, not to mention our vast collection of effects pedals and accessories. Newly released from Fender is the Jimi Hendrix Signature Strat. These will go quick, so if you are looking to achieve that legendary Jimi sound, check it out. Check out the latest from NAMM 2016 at our live update page and get info on the hottest releases for 2016.

Drummers need look no further for the biggest selection of the best drum gear, including acoustic drum sets, electronic drum sets, hand drums, cymbals and sticks. And for the independent recording artist, check out Avid Pro Tools, PreSonus StudioLive, Epix Bundle 10, and Komplete 10 - plus our live sound products, from mixers to monitors and more, will suit the needs of any gigging musician.

Don't know how to play and want to get started? It's easy with Guitar Center's enormous assortment of books & media. Check out our Featured Products Page for some of our latest product releases and special offers. Players of all skill levels can attend our free Workshops Series and Recording Made Easy classes every week.

Looking for extra help with recording your music? GC has partnered with the experts at Studio Automatic to offer online recording studio services. They can take your song idea and turn it into a fully produced song in 5-7 business days. Visit our Studio Automatic page to learn more about the service, the process, and listen to some samples.

Are you a longtime guitarist looking for something especially unique? Check out our platinum instruments and vintage gear online, or in-person at your local GC store. From the Gibson Les Paul to the Fender Stratocasters, we've got you covered. We even offer a wide array of band & orchestra instruments and accessories at GuitarCenter.com.

No matter your experience level or musical preference, our knowledgeable team of experienced musicians will help you find the right piece of gear for your band, ensemble or music venue. Whether you're just getting started making music, or you're a working professional, Guitar Center has what you need to help make the sounds in your head a reality.

Join the community. Allow us to introduce you to the exclusive network of musicians and music lovers: Music Aficionado. This social network gives music enthusiasts a place to collect, share, listen to, and discuss everything they love about music from their favorite albums, playlists, and artists to their favorite pieces of gear, instructional videos, and altered tunings.