Get Your Coupon Code Today
How do you want to receive your code?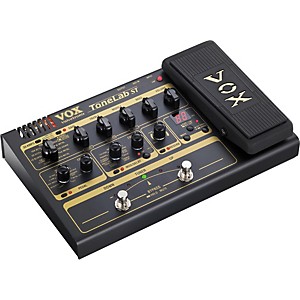 The compact ToneLab ST Modeling Effects Processor from VOX offers 33 different amp models with a versatile array of cabinets and effects to take your guitar playing to the next level"wherever you go. With a real 12AX7 tube and Valvetronix technology, ToneLab ST pedal delivers, pro-level, true-tube sound.

Designed for mobility, the compact ToneLab ST is made for guitarists on the go. The rugged metal body will stand up to life on the road, and the expression pedal carries on the fine tradition of VOX wah pedals.

The Valvetronix ToneLab ST is a shining example of VOX's unique, cutting-edge vacuum tube modeling know-how, delivering a broad range of powerful sounds. From large amp stacks to mini-combo amps and multi-effect pedals, the ToneLab ST boasts a diverse lineup, and can be seen on stage, in the studio, and in the home. The Vox ToneLab ST maintains the sophisticated specifications of the Valvetronix series, while packaging them into a compact unit that allows anyone to easily experience true tube-powered sound. In addition to both amplifier and cabinet models, there is also a wide variety of expertly modeled effects. In a compact, easy-to-use format, ToneLab ST delivers classic vintage sounds, studio-quality and high-gain amps, even newer amp models created by VOX. Effect parameters can be quickly assigned to the expression pedal, ensuring a limitless range of performance power. Sophisticated extras include an auto chromatic tuner, sound management software for your PC, and convenient USB audio interface operations. The Vox ToneLab ST is designed to deliver the ultimate in tonal dexterity to the musician in any situation, from stage to studio and everywhere in between.

True 12AX7 tube circuitry

The Valvetronix series was developed with painstaking attention to detail. The valve circuitry features a real 12AX7 vacuum tube, along with other components, to cleanly mimic the interaction that occurs in a tube amplifier in a way no digital circuit can. This distinguishes the ToneLab ST from other modeling units. This fundamental difference is the basis for the awesome sonic power available in the ToneLab ST.

Sophisticated top-to-bottom modeling technology

Through the years, a handful of guitar amps have provided the inspiration and created the driving force behind the greatest guitar performances in history. ToneLab ST is equipped with 33 spot-on amp simulations, including vintage amps, coveted boutique amps, the latest high-gain amps, and VOX-designed amp models. But the ToneLab ST goes even further, adding 11 classic cabinet configurations that can be mixed and matched with any amp model. That's 363 amp and cabinet combinations available instantly.

Multiple effects add a custom touch

A single ToneLab ST program contains amp, cabinet, pedal, and modulation effect settings"even noise reduction options"providing enormous freedom and versatility for creating your own sounds. There are 50 preset programs for immediate use, covering a broad range of styles and playing styles. The preset programs include 20 song programs, able to instantly reproduce the familiar sounds of those great guitar songs that everyone will recognize. This way, you can enjoy the versatile sounds of the ToneLab ST right away"before you even consider creating your own programs. But when you're ready, the ToneLab ST guitar pedal can hold fifty of your custom edited programs. Together with the preset programs, this gives you a total of 100 programs, available on demand.

One hundred programs, including 20 song presets

The amp, cabinet, and effect settings can be saved into 120 programs locations. There are also 40 preset programs that contain classic settings for each amp model.

Unlimited expressive pedal power

The ToneLab ST provides an expression pedal that lets you control various tone shaping effects and parameters as you play. In addition to volume and wah, you can use the pedal to control real-time effect parameters"amplifier gain, tremolo speed, flanger depth, etc"providing a dramatic leap in expressive potential. The "Quick Assign" function lets you assign any effect parameter on the fly. By specifying the range of control, you can quickly create highly original performance settings.

Excellent audio integration with your computer

ToneLab ST is a complete ASIO-compatible USB audio interface. With a single USB connection, the ToneLab ST will conveniently interface with your computer Digital Audio Workstation or sequencing software. ToneLab ST delivers the signal to your computer digitally, with no degradation in sound, for flawless recordings. Librarian software (Windows/Mac) for managing ToneLab ST programs will be available as a free download and allows the easy exchange of data between users.

Versatile support functions

An auto-chromatic tuner featuring great visibility is built right in. Mute and bypass functions allow you to tune unnoticed while on stage. The ToneLab ST's powerful Amp/Line switch lets you instantly apply the appropriate compensation for a guitar amp, power amp or direct recording connection, so you can take full advantage of its full sonic potential in any situation. There's also an AUX IN jack so you can play along with the sound of your favorite band in nearly any format. Compact in size, the on-the-go ToneLab ST effects pedal is big on features and huge on tone.

$99.99
Ends Thursday 02/11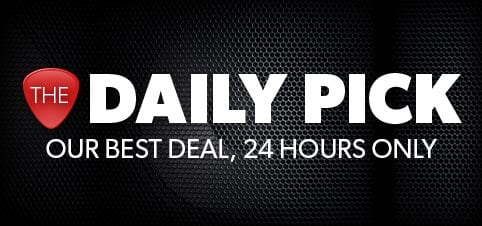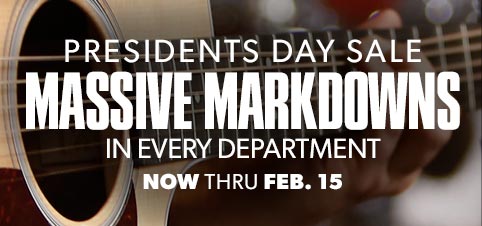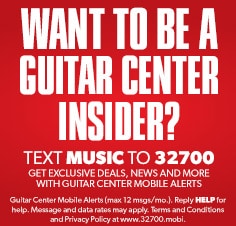 Guitar Center is home to the worlds largest selection of popular guitars, basses, amplifiers, keyboards, workstations, drums, percussion, microphones, PA systems, DJ equipment, stage lighting, recording software, studio gear and more. Backed by over 260 stores across the country, GuitarCenter.com offers the fastest, easiest way to find all the gear you need in one place. And, while many popular instruments are available for same-day pickup at a store near you, we also offer free shipping on thousands of items to the Guitar Center location of your choice.

Because of our incredible buying power and strong relationships with all the top musical instrument brands, you're sure to find all the best gear at the guaranteed lowest price. From the all new Gibson USA 2016 updates to the largest collection of Strats, we've got everything a guitarist could ask for, not to mention our vast collection of effects pedals and accessories. Newly released from Fender is the Jimi Hendrix Signature Strat. These will go quick, so if you are looking to achieve that legendary Jimi sound, check it out. Check out the latest from NAMM 2016 at our live update page and get info on the hottest releases for 2016.

Drummers need look no further for the biggest selection of the best drum gear, including acoustic drum sets, electronic drum sets, hand drums, cymbals and sticks. And for the independent recording artist, check out Avid Pro Tools, PreSonus StudioLive, Epix Bundle 10, and Komplete 10 - plus our live sound products, from mixers to monitors and more, will suit the needs of any gigging musician.

Don't know how to play and want to get started? It's easy with Guitar Centers enormous assortment of books & media. Check out our Featured Products Page for some of our latest product releases and special offers. Players of all skill levels can attend our free Workshops Series and Recording Made Easy classes every week. Are you a longtime guitarist looking for something especially unique? Check out our platinum instruments and vintage gear online, or in-person at your local GC store. From the Gibson Les Paul to the Fender Stratocasters, we've got you covered. We even offer a wide array of band & orchestra instruments and accessories at GuitarCenter.com.

No matter your experience level or musical preference, our knowledgeable team of experienced musicians will help you find the right piece of gear for your band, ensemble or music venue. Whether you're just getting started making music, or youre a working professional, Guitar Center has what you need to help make the sounds in your head a reality.